At Statewide Mutual, we're dedicated to helping our members build their risk-management capabilities. More than this, we believe in recognising their hard work and sharing their success. That's why our Risk Management Excellence Awards exist. Now in its 25th year, this event has always been a highlight of our annual calendar – and 2020 was no exception.
A tough year – and a tough decision
It's safe to say that 2020 was not an easy year. But our member councils have shown us that when the going gets tough, the tough really do get going.
We received a high calibre of submissions for the 2020 Risk Management Excellence Awards, so our judging panel faced some hard decisions.
Of the 15 submissions received, we saw an array of risks unique to local government – including water and tree management, regional collaboration, event and volunteer management, and pandemic response.
The judging panel considered each submission against key criteria, including the following:
Application of risk-management principles
Organisational awareness about risk
Innovation in the reduction of risk
Relevance for Statewide Mutual and our members
And the winners are…
In 2020, we awarded two overall winners:
Singleton Council
For: Its Integrated Risk Management Plan
Category: Rural and Smaller Regional Councils
Northern Beaches Council
For: Its Conflicts of Interest and Disclosures Management System
Category: Metropolitan and Large Regional Council
We commend these two councils on their significant innovations in risk management.
Singleton Council: The best-laid plans
Singleton Council was commended for its Integrated Risk Management Plan (IRM Plan) – a user-friendly roadmap that drives a culture of risk awareness and fosters collaboration.
The three-year rolling IRM Plan ensures ongoing development and improvement of integrated risk management from a broad, council-wide perspective.
It identifies key actions and timeframes for risk-related policy, planning and implementation. And it allows for measurement, evaluation and management review, to ensure that actions are upheld and goals are met.
The IRM Plan covers a wide range of areas for risk management, for example:
Assessing risk for environmental management and impacts
Creating a strategic risk register for operations
Encouraging mental health risk-assessment and intervention plans
Committing to fraud and corruption 'health checks'
According to Singleton Council's Deborah MacDonald (Manager Integrated Risk), "The IRM Plan balances the needs and priorities of our people and operations. It's our commitment to embedding risk management into every facet of our business."
This integrated approach, she notes, allows the council to build a strong, proactive risk culture.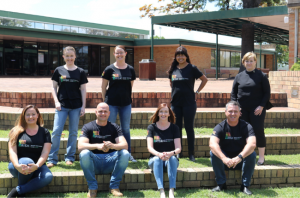 The Singleton Council Integrated Risk Team members are (top left to right) Dimity Maher (Risk Management Officer), Larissa Bourke (Coordinator Governance), Marcelle Jones (STE Officer), Vicki Brereton (Director Organisation & Community Capacity) and (bottom left to right) Jenny Rudder (WHS Advisor), Marco Cortesi (STE Officer), Deborah McDonald (Manager Integrated Risk) and Jason Linnane (General Manager).
Northern Beaches Council: Full disclosure – there's an app for that
Northern Beaches Council's Conflicts of Interest and Disclosures Management System provides an innovative way to bring together a range of disclosure requirements, both mandatory and discretionary.
Following a council-wide fraud 'health check' survey and two fraud-awareness training sessions, Northern Beaches Council sought to better detect and prevent fraud and corruption. They focused on two areas:
Improving communication about managing conflict
Developing a new application to facilitate conflict disclosures
Lesley Milbourne (Senior Advisor – Governance) describes the app that Northern Beaches Council developed as, "A one-stop interactive hub that allows staff to easily complete their mandatory disclosures – and remind them that it's easy to make proactive, everyday disclosures too."
The app streamlines reporting and processing for over 300 designated persons affiliated with the council, which is the second largest in NSW.
In this way, the new application enhances the council's ability to pre-emptively manage conflicts of interest – and facilitates a culture of proactive disclosure and risk mitigation.
Robert Humphries (Regional Risk Manager) of Statewide Mutual presents the award shield to Lesley Milbourne (Senior Advisor – Governance) and Sarah Dunstan (A/Executive Manager Governance and Risk) of Northern Beaches Council.
Learn more – and get inspired
The submissions for the 2020 Risk Management Excellence Awards show how councils are tackling risk management in many other vital areas.
We encourage you to visit the Statewide Mutual Member Centre to see the great work our member councils are doing in managing risk relating to their local resources, infrastructures, communities and challenges.
Have these councils inspired you? Statewide Mutual is ready to help you achieve excellence in risk management in 2021.
For advice and support with building your risk-management capabilities, contact your Regional Risk Manager.